The holidays are upon us, and new gaming gear is at the top of almost any gamer's wishlist. Here are some of the most popular products that you can pick up at a big discount.
---
Shopping for gaming gifts? Here is the best SteelSeries gear on sale for a super limited time during the Cyber Sale, which runs from November 23 - December 2 or while supplies last.
Note that not all products are available in all regions, and are only available while logged in. Luckily, getting a SteelSeries account is free and takes just a few seconds.
---
The Arctis Pro is premium wired performance headset compatible with nearly any platform, and comes with tons of useful features for gaming, like customizable RGB, ChatMix, surround sound, a retractable microphone, and lightweight aluminum alloy headband.
With both USB and 3.5mm cables, the Arctis Pro can connect to virtually any device (including PS5 with 3D audio!), and is a premium upgrade for most gamers. Stop by the Cyber Sale to check it out before it's gone!
---
As an upgrade to the Arctis Pro, you can also spring for the version that includes an external GameDAC (digital to analog converter). This is the choice for audiophiles who want incredibly high quality sound on their PC, PS4, or PS5. It's the first gaming audio system that was certified Hi-Res, and can reproduce audio up to 40,000 Hz (instead of the standard 22,000 Hz). Like the Arctis Pro, it's even 3D audio compatible with the PS5.
The black version of the Arctis Pro + GameDAC is available on the Cyber Sale, so grab one if you can!
---
The Arctis 5 (black) is also on sale during the Cyber Sale. Originally launched in 2016, it was updated last year with new adjustments and upgrades like DTS Surround Sound.
With RGB, ChatMix, a retractable mic, 3D audio on PS5, and many more features, the Arctis 5 is a solid upgrade and a great deal for many PC gamers.
---
Don't let the name fool you – this new wireless headset is for much more than Nintendo Switch.
It's unique USB-C wireless dongle (for significantly higher quality than Bluetooth audio) means it works wireless on virtually any platform: - PS5 (including 3D audio) - PS4 - Switch (docked or undocked) and Switch Lite - Android mobile - Laptops, tablets, PCs, Macs, Stadia controllers, - Many other devices with USB or USB-C connections
While not built for Xbox, you can even use it wired with Xbox One, Xbox Series S, and Xbox Series X.
With 20 hours of battery life, the ability to charge while playing, a detachable mic (hello, headphones!) and more, the Arctis 1 Wireless for Switch is an amazing and economical choice for those who need a wireless headset that simply works everywhere they game.
---
Sick of running your mouse off your mousepad? Just released this year, the QcK 4XL (or larger in some regions) is the perfect way to end your mousepad woes and get the clean setup you've always wanted.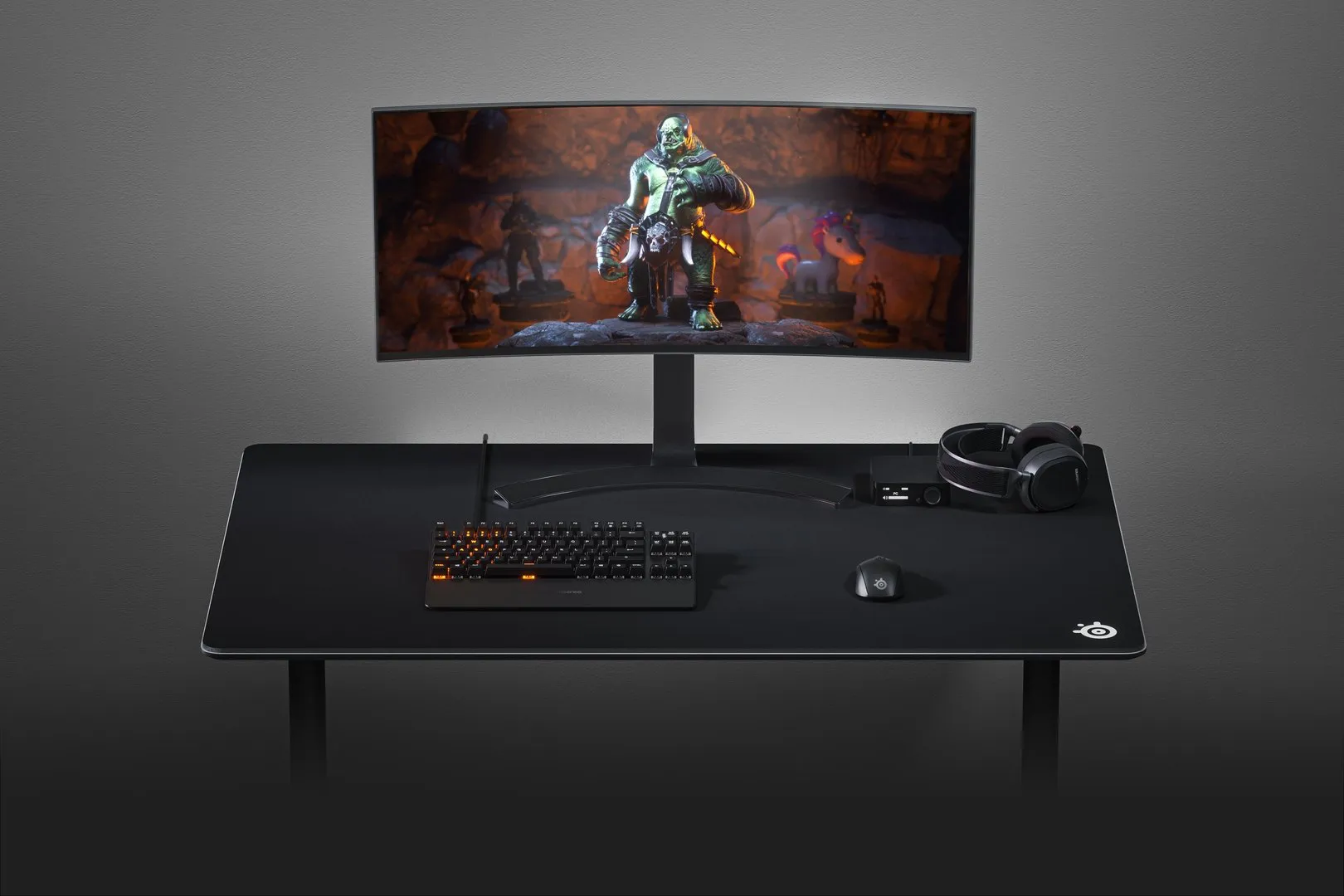 It's on sale now in the Cyber Sale and makes a fantastic gift for yourself or a loved one.
---
The QcK Prism 4XL and QcK Prism 5XL are also on sale if you want to elevate your desk even further. Their customizable RGB isn't just for show: they can sync up with your other SteelSeries RGB gear, and even react to in-game events and other triggers like Discord messages.
Both the 4XL and 5XL versions are available in the Cyber Sale for a limited time!
---
In addition to products, all accessories on SteelSeries.com are available at a huge discount as part of the Cyber Sale.
This includes a wide range of accessories like:
---
Availability varies by region, so check out the Cyber Sale to see what else is discounted in your region before it's gone! Happy shopping, and happy holidays!
---
More gaming gift ideas
Don't forget to stop by the official SteelSeries Discord channel and say hello!