The best gear (and tips) for making your way through Guild Wars 2.
---
Guild Wars 2 is an MMORPG that takes players to the fantasy world of Tyria as they explore the re-emergence of a band of heroes known as Destiny's Edge. Sworn to protect the land against the Elder Dragons that have Tyria rule in furled claw, this disbanded guild returns (with you in tow) to take back the land while exploring a story that responds to the actions players choose. It's a challenging and exciting adventure that features a dynamic combat system and deep magical mechanics that'll keep you coming back for more.
So it's no wonder you might be curious about jumping in and giving it a try yourself. If you've tried World of Warcraft or Final Fantasy and need something a little different to whet your whistle for all things MMORPG, it might just be time to see what Guild Wars 2 has in store. Of course, you're going to want to use the best gear back in the real world to make sure you can go toe to toe with whatever the game brings. That's where our limited edition Guild Wars 2 Collection comes in.
If you're looking to go ahead and jump in, we've got some tips and tricks to help you settle in. There's a lot to learn, but don't worry -- we've got your back.
Be ready to explore
This might be a no-brainer, but Guild Wars 2 is a game that rewards exploration and those who move around the world looking for cool new finds and opportunities. The best way to level up is by heading out and completing quests, and that means looking around and finding new story quests to complete and monsters to fell. Since you don't need to play with others and rely on them to level up, you can do all this alone and fly solo until you're ready to "leave the nest," so to speak.
Since you're going to be spending so much time doing this, you'll want to make sure you have the right equipment to keep you primed and ready. You'll likely be using your favorite gaming mouse and keyboard, so be ready with great gear to support it. That includes the QcK Large: Guild Wars 2 Edition from SteelSeries, a limited edition gaming mousepad emblazoned with a panoramic view of the world of Tyria, caught between the rift of scorching fire and freezing ice of The Icebrood Saga. It's gorgeous -- and most importantly, it's functional.
Select the class that fits you best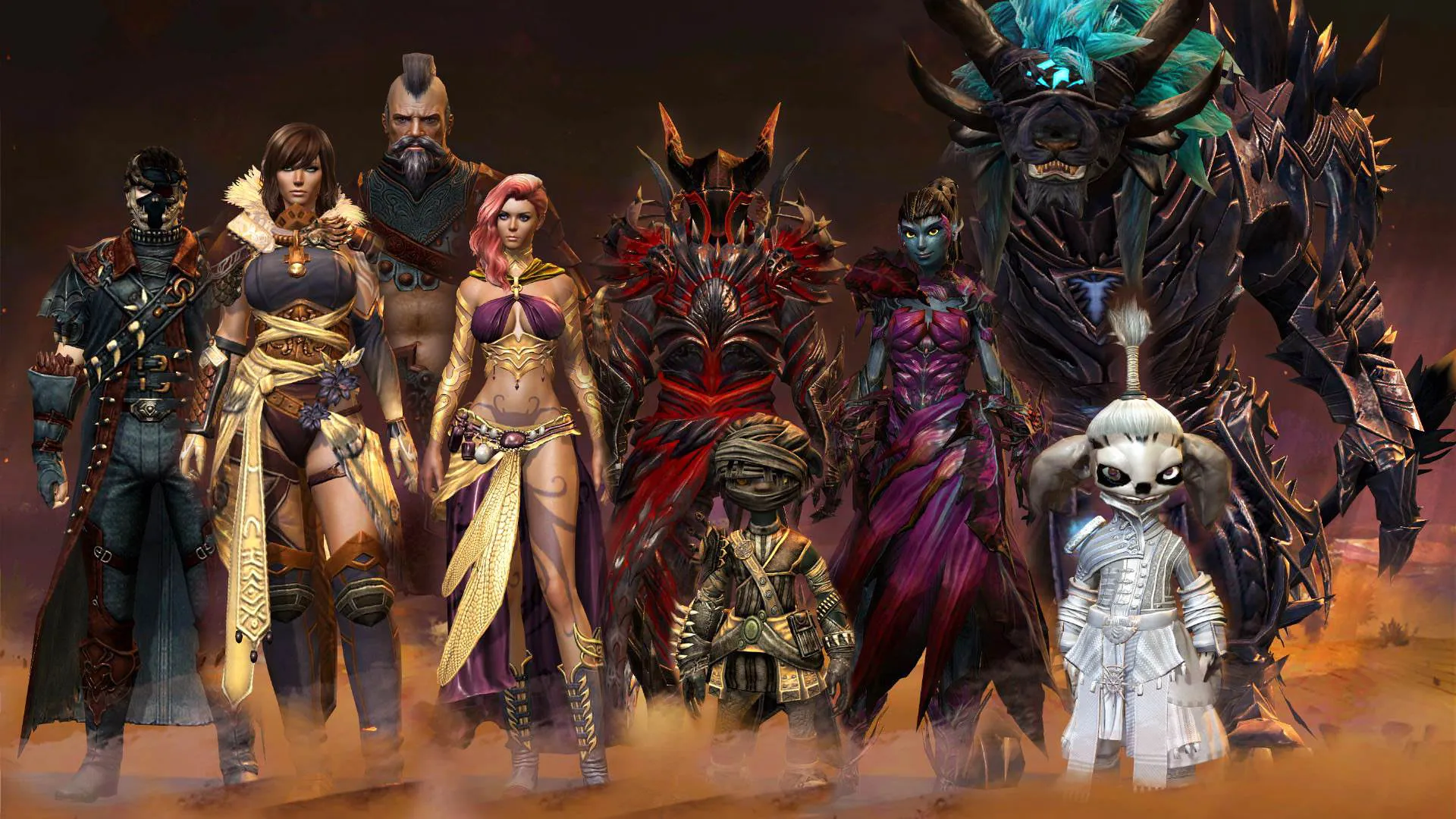 There are some truly intriguing classes to pick in Guild Wars 2. But you shouldn't just look for the coolest class to get started. You're really going to need to put some thought into which class works for you. Some of them are decidedly more difficult to get started with, and even though they look awesome, you don't want to force yourself to pick those first. Out of these, these include the Warrior, Necromancer, and the Ranger. Be cognizant of what each role requires before choosing it, and you'll have a better time overall.
Choose your world carefully
Guild Wars 2 is obviously a game that's best played with friends. You can engage in PvP combat and challenges just about wherever you want across massive "sandboxes" filled with players where entire servers fight against each other. This "World-versus-World" or WvW mode effectively acts as the "guild war" the game's title refers to. So if you want to do this with friends, you will need to make sure you are playing in the same world they are. Once you choose a world at the beginning of the world, however, you can't change it. Be sure to discuss this with friends already in Guild Wars 2 if you're planning on joining these events.
With that in mind, communication with others is important. You'll want a good, reliable headset to throw on and make sure everything is crystal clear in terms of chatting as well as listening. Your Arctis Pro from SteelSeries is a great choice -- hint, hint! -- since it's a stalwart, reliable piece of gear that always looks and feels great. You can make them look even cooler with our Arctis Pro Speaker Plates: Guild Wars 2 Edition. Compatible with Arctis Pro, Arctis Pro + GameDAC, and Arctis Pro Wireless, these plates offer a way for you to personalize your Arctis Pro headset with special artwork that features the white-hot flames and bone-shattering cold sides of Tyria.
---
阅读更多
Looking forward to jumping into Guild Wars 2? Join the official SteelSeries Discord to find fellow players.