With Star Wars: Squadrons on the horizon for a fall 2020 release, it's time to go back and revisit some of the best Star Wars titles this side of the Dagobah system.
---
Star Wars fans across the globe are gearing up to hop in their X-Wings and TIE Fighters for a chance to engage in online dogfights in Star Wars: Squadrons. There's just one problem: The latest game in the Star Wars universe isn't out until October 2.
Luckily, you don't have to wait until fall to see what it's like to swing a lightsaber, explore the Wookiee home planet of Kashyyyk, or rally the Rebel troops for an intense fleet battle. There are already some positively fantastic Star Wars games on the market that you can jump into right now.
Here are eight awesome Star Wars titles you can play while waiting for Star Wars: Squadrons.
Star Wars Battlefront II
Source: Steam
Jump into your favorite battles from throughout the Star Wars universe and fight your way to victory. Play in both first and third-person modes as you jump into large-scale combat set throughout locations seen in the original, prequel, and sequel Star Wars trilogies. Take the fight with Luke Skywalker himself to worlds like Tatooine and Hoth or fight alongside Master Yoda on Jakku with your own customizable character.
If ground combat via blasters and lightsabers aren't your speed, jump into a variety of game modes to pilot Fighters or Interceptors in large or small scale space battles. It's the ultimate way to live out your Star Wars fantasies from top to bottom featuring your favorite characters, including everyone from Leia Organa to Boba Fest. Plus, you can play a single-player campaign or opt for multiplayer.
Buy Star Wars Battlefront II here
Star Wars Jedi: Fallen Order
Source: Steam
Star Wars Jedi: Fallen Order is the latest single-player adventure set squarely within the Star Wars universe. It follows Jedi Padawan Cal Kestis, who happens to be one of the last remaining Force-sensitive individuals in the universe.
After a chance encounter with an influential member of the Jedi Order, he's tasked with finding any of the last Force-sensitive children alive to raise new Jedi Knights. This challenging third-person adventure combines tough combat with satisfying lightsaber play for a unique journey through the Star Wars universe. If you're an Uncharted fan, you'll find plenty to love here.
Buy Star Wars Jedi: Fallen Order here
Star Wars: Knights of the Old Republic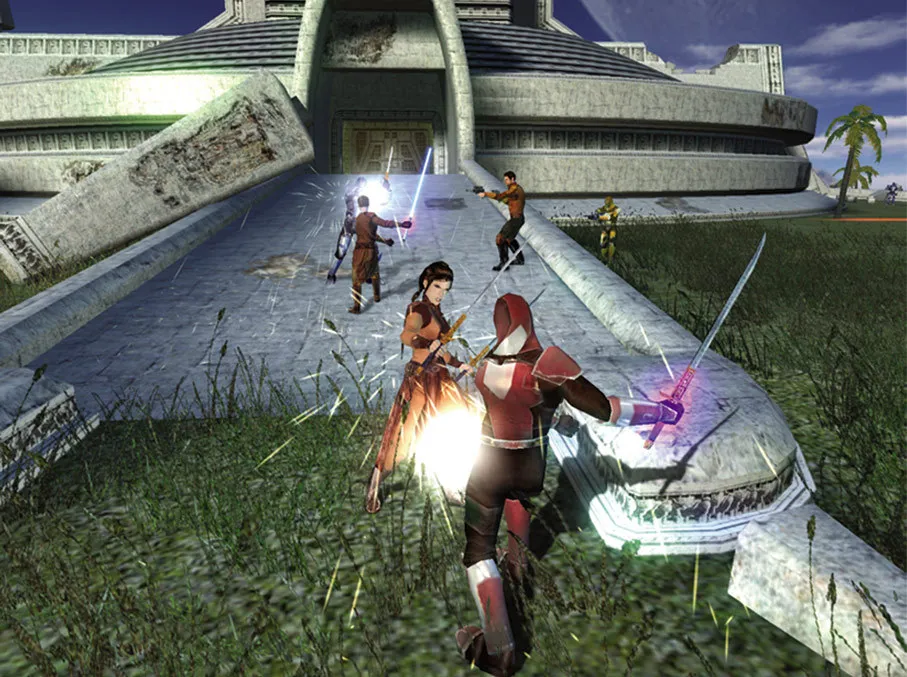 Source: Steam
Star Wars: Knights of the Old Republic is arguably one of the most well-loved RPGs of all time. It's a slow burn of a narrative that lets you become a Jedi and travel around the galaxy with the goal of defeating the nefarious Dark Lord Malek, a Sith master that's in dire need of a comeuppance.
Make the difficult decision of walking the path of the Light side or the Dark side of the Force while hot on Malek's tail. Along the way, you'll meet a variety of intriguing characters with their own unique back stories as well as visit the planets they hail from. Battle your way to an epic conclusion – and then take on the equally fantastic sequel.
Buy Star Wars: Knights of the Old Republic here
Star Wars Jedi Knight 2: Jedi Outcast
Source: Steam
The second time gamers caught up with Kyle Katarn in the Jedi Knight series was the best one. This first-person shooter game followed Katarn, a former Jedi turned mercenary working for the New Republic, as he works to regain the powers of the Force. Along the way, Luke Skywalker himself offers Kyle his lightsaber in exchange for the completion of several trials.
In addition to Luke, there are several familiar faces from the Star Wars universe that make an appearance as Kyle returns to the Force, frees Lando Calrissian from nefarious ne'er-do-wells, and unravels an intergalactic plot. Just an average day for Kyle Katarn.
Buy Star Wars Jedi Knight 2: Jedi Outcast here
Star Wars Rogue Leader: Rogue Squadron 3D
Source: GOG
Taking to the skies in the Star Wars universe has always delighted fans. This classic arcade-style adventure lets players jump into five different spacecrafts from throughout the whole of Star Wars to engage in search and destroy, rescue, reconnaissance, and protection missions.
Designed from the ground up based on a level in Star Wars: Shadow of the Empire, this space combat simulator features 16 levels rife with inventive objectives and challenging battles as well as plenty of unlockable secrets to tie it all together. If it's solely space combat you're jonesing for, this is the closest you'll get to Star Wars: Squadrons right now.
Buy Star Wars Rogue Leader: Rogue Squadron 3D here
Lego Star Wars: The Complete Saga
Source: Steam
Star Wars is cool enough on its own. What happens when you add Lego to the equation? You get Lego Star Wars: The Complete Saga, the perfect game to enjoy with Star Wars fans of all ages. It takes the familiar universe along with your favorite characters and turns them into Lego figures.
You progress through the entirety of the Star Wars saga (36 story levels, not including the cool bonus stages!), gather fun Lego collectibles, and watch the the first six Star Wars films through the lens of the Lego universe. It can be enjoyed solo or with a friend too, so you can have those multiplayer sojourns through the universe you've always wanted.
Buy Lego Star Wars: The Complete Saga here
Star Wars: TIE Fighter
Source: Steam
Star Wars: TIE Fighter might be the only game on this list, but it offers unmatched quality when it comes to space flight sims. Jump into the cockpit of your own TIE fighter as you play on the side of the Imperial forces. Battles are completed in first-person and you're given a list of objectives to mark off your list as you take the battle to the Rebels.
There are 13 missions to complete, each with mission briefings and debriefings, cut scenes, and realistic flight instructions offered to you as you soar through space to victory. It's well worth experiencing, even if you're more of a modern Star Wars fan.
BuyStar Wars: TIE Fighter here
Star Wars: Dark Forces
Source: Steam
Star Wars: Dark Forces is a classic first-person shooter that first puts players in the shoes of former Jedi Kyle Katarn. It takes place before any of his "Jedi Outcast" dalliances, and it's a more rudimentary shooter, but it's an action-packed and satisfying shooter that lets you square off against battle droids, stormtroopers, and a variety of other enemies while you solve environmental puzzles.
Plus, you get to explore Jabba the Hutt's space yacht, the planet Coruscant, and a variety of other locations all in the name of stopping the Imperial Dark Trooper project, spearheaded by General Rom Mohc. It's a fantastic introduction to Star Wars shooters and remains one of the best to this day.
Buy Star Wars: Dark Forces here
---
阅读更多
Discuss Star Wars games and more on the official SteelSeries Discord server!