The Rival 5 is an ergonomic 9-button mouse with 5 quick action side buttons designed for top speed in Minecraft. Here's how to customize it for the game.
---
Anyone who loves playing Minecraft knows there are plenty of different controls to keep in mind while building and surviving. That's why you need a mouse that makes it simple to keep track of them all.
For that reason, you'll want a gaming mouse that you can customize to your liking. That means you'll want the SteelSeries Rival 5, which you can set up with all of the buttons you use regularly with your favorite key bindings. The Rival 5 is the best side button gaming mouse for Minecraft, period.
Why the Rival 5?
The Rival 5 offers an unmatched selection of customization options, even for games across different genres. That means it can transform from one type of game to another to accommodate just about anything. From shooters to sandbox games, the Rival 5 can handle it all.
That means it's the best option for Minecraft players looking for total customization. Each button can be fully customized to help put together a collection of actions to make you efficient and ready to hit the world running. With a 5-button side panel with a one-of-a-kind toggle for fast in-game actions, you can handle it all thanks to the Rival 5.
You also get the mouse's TrueAir Sensor to contend with, which gives you accurate movement, custom true 1-to-1 tracking, excellent speed and performance, and a great fit for any hand.
How to set up the Rival 5 for Minecraft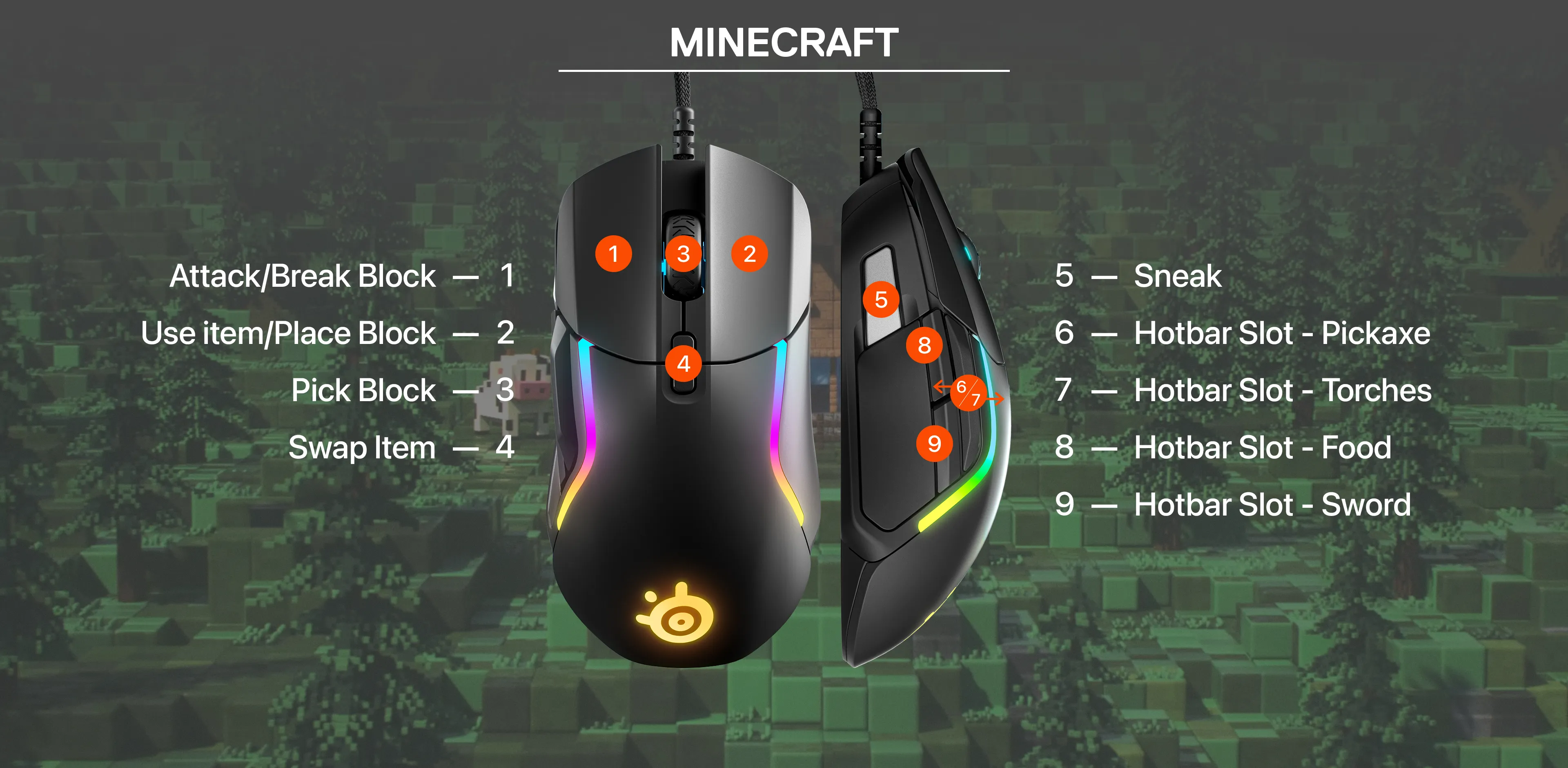 Ready to set up the Rival 5 to work the way you want to with Minecraft? You can customize it to your liking, even if you choose not to use it with Minecraft. Here are some of our suggestions for what actions you can assign to each button.
1 (Left Click): Attack/Break Block
2 (Right Click): Use Item/Place Block
3 (Scroll Wheel): Pick Block
4 (Middle Button): Swapt Item
5 (Side Button): Sneak
6 (Side Button A): Hot Bar Slot - Pickaxe
7 (Side Button B): Hot Bar Slot - Torches
8 (Side Button C): Hot Bar Slot - Food
9 (Side Button D): Hot Bar Slot - Sword
It's easy to see how easy it can be to make sure the Rival 5 has everything you need in terms of programmable actions. Whether you follow this setup or choose something else, the Rival 5 has your back.
---
阅读更多
Have tons of thoughts on Minecraft you'd like to share? Head on over to the SteelSeries Discord to have a chat with plenty of other fans.