Gain an edge when clutching out those 1v1 duels. With the comfort of wireless equipment, start earning killer hotstreaks while using the best headset, keyboard, and mouse.
---
We're kicking off the fifth week of Game On with one of the oldest and most enduring genres in gaming: FPS (first-person shooter, for those who needed that explained). The adrenaline we get from seeing things "as the character" as we sprint into a building and land quick shots before they do is irreplaceable.
Each week throughout the summer, as we celebrate various game genres, we have millions of free codes to giveaway through our SteelSeries Game On page, in addition to our FPS Gleam giveaways, so make sure to stay tuned to our channels.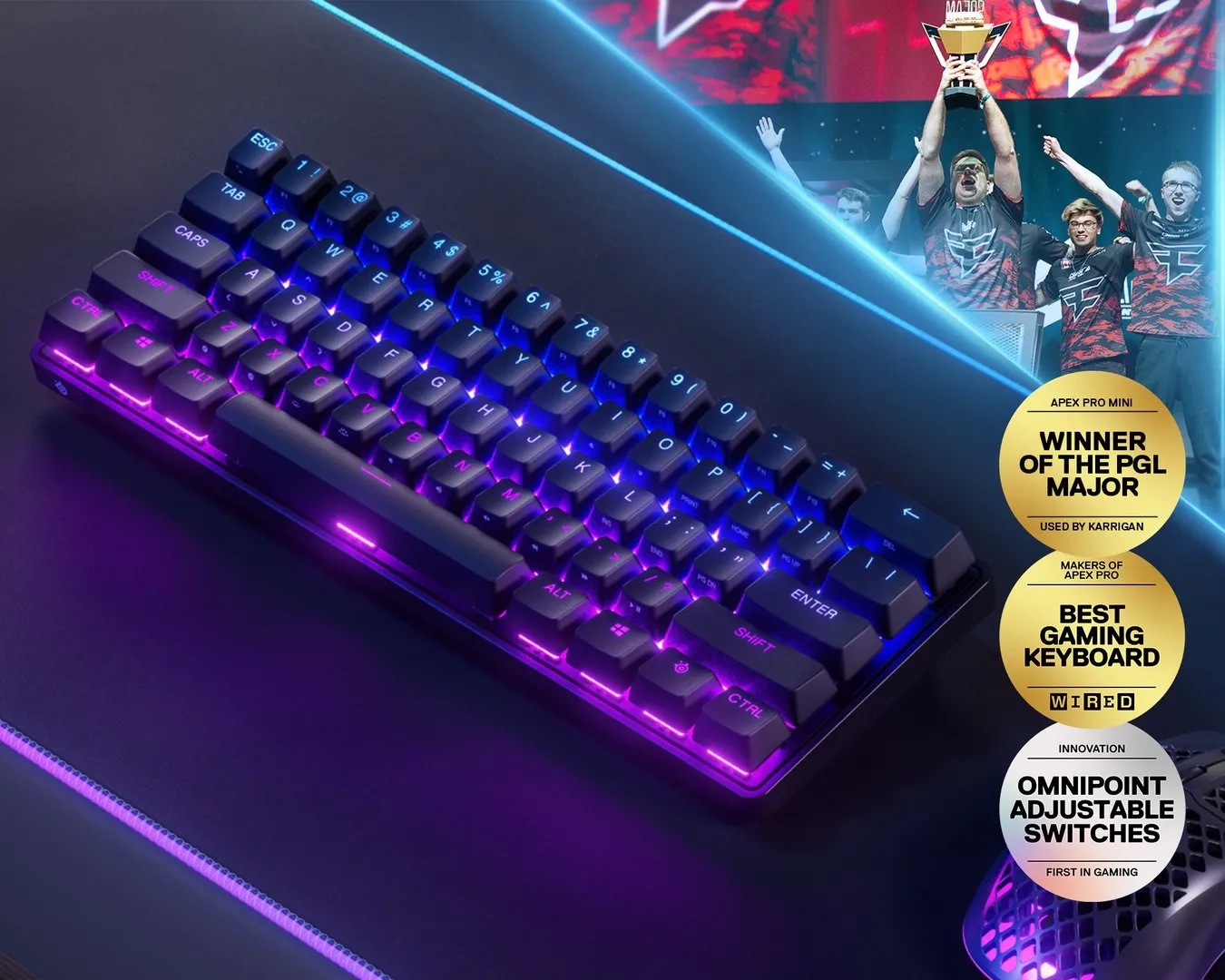 Our newest keyboard release truly is the apex of speed: the Apex Pro Mini gaming keyboard boasts the world's fastest OmniPoint 2.0 switches. These have 11x quicker response and 10x swifter actuation in comparison to standard mechanical keyboards, so this is your chance to get ahead of the pack.
The level of adjustability: ultimate. You can make every key on this keyboard respond precisely how you want, from deeper 3.8mm presses to lightest at 0.2mm. The range on this is just that big. What's more, you can program keys to do different actions depending on how you press them with the 2-in-1 Action Keys function. The possibilities are endless. FaZe Karrigan knows so.
Ultra-fast 2.4GHz wireless keeps you in the action without any wires. This truly is the keyboard of winners.
For the best team comms: Arctis Prime
You can't have a good time in FPS titles without clear communication with your teammates. The Arctis Prime gaming headset has been designed in collaboration with esports pros from around the world with a single goal in mind: scoring that W.
First, enjoy greater clarity of sound with the high fidelity audio drivers, so that all the sound you need shines. This is aided by the noise-isolating ear cushions, which help you focus on aiming and environmental cues.
Your teammates will also notice a difference when you start using the Discord-certified, ClearCast mic, so your teammates will hear you in those critical callouts. A leader can't sound warbled or unconfident. And this headset works on all platforms, so you can use it with your PC, PlayStation, Xbox, and Switch.
Bring some magnetism to your deathmatches with Prestige Optical Magnetic™ switches. These keep your Prime Wireless gaming mouse crispy for 100 million clicks -- you can even hear the difference.
Our Prime line has been co-developed with over 100 of the top esports players in the world, so rest assured that every meticulous detail has been thought through. Karrigan from FaZe also used this to win our Prime Bounty!
With the TrueMove Air Gaming Sensor (of course developed with PixArt), eliminate unwanted tracking during your game-winning mouse work. Turn all your attention to the screen and let the mouse become an extension of your hand. Boom. Headshot.
If something slightly more compact is your thing, we also have the Prime Mini Wireless gaming mouse.
Furnish your gaming station with style and function -- you can't go wrong with the QcK Cloth gaming mousepad (available in multiple sizes!).
Tested by the top mouse sensor manufacturer, the QcK line has a high thread count and an extremely smooth surface to make your mouse even better. Your optical and laser sensors will be optimized by this surface. Your mousepad will stay in place thanks to the never-slip base, designed to give a solid platform for competitive gaming. Now your setup is complete to dominate in your favorite FPS title.
---
Ready to get your Game On in FPS games? Make sure to stay tuned to the SteelSeries Twitch for special streams this week and visit our Game On page for free, exclusive downloadable codes!