The pesky gnomes have returned once again in Fortnite OG's Chapter 4 Season 5, bringing back fond memories for longtime players. These little statues are hidden across the map, just waiting to be discovered. Tracking down all 10 gnomes is no easy feat, as they blend into their surroundings extremely well. But the reward of 20,000 XP per gnome with a combined total of 200,000 XP is well worth the effort.
Hidden Gnome Locations in Fortnite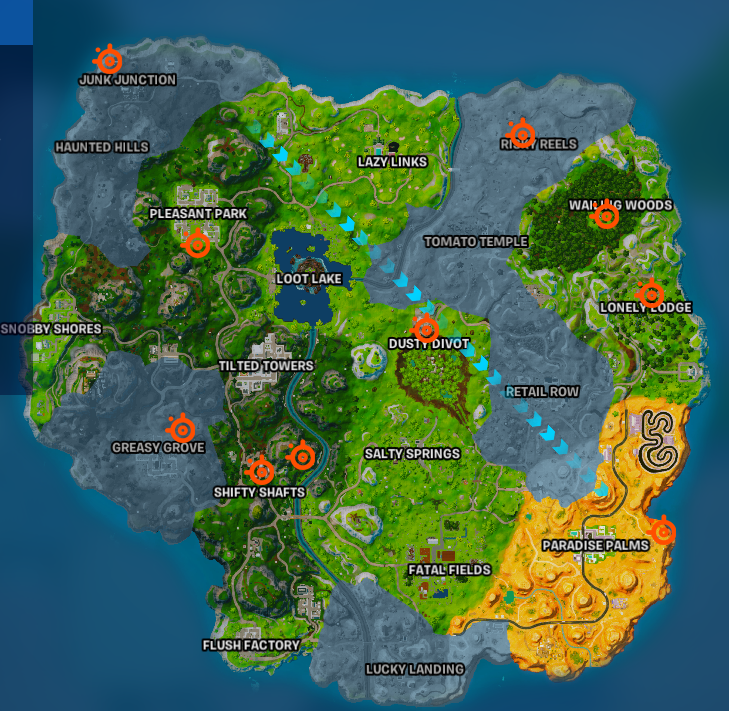 These sneaky statues are experts at hiding in plain sight across the map's nooks and crannies. But finding all 10 of these little tricksters will reward you handsomely as each gnome you discover nets you 20,000 XP, for a total of 200,000 free XP up for grabs! We've marked their general locations on the map above, but you'll need to explore these areas thoroughly to spot them. Just don't forget to watch for their telltale white exclamation point indicator when you're getting close! Grab all the free XP you can by finding these playful gnomes before the season ends.
Shifty Shafts Hidden Gnome
This tricky gnome is playing pilot, hidden outside the crashed Battle Bus overlooking Shifty Shafts. Keep an eye out for the overturned bus perched on the hilltop to the northeast, and you'll spot this gnome hanging out face planted in front of the crashed bus.
Shifty Shafts Second Gnome
Tucked away in the dark mineshafts below Shifty Shafts, concealed behind a wooden barricade you will find this hidden gnome. Bust through the wooden wall to reveal the chest and gnome stashed away in the mine's shadowy depths.
Risky Reels Hidden Gnome
Tucked inside the fenced area in the northwest corner by a dusty old RV. Check behind the parked RV near the perimeter fence to spot this sneaky statue trying to stay out of sight from the big screens.
Wailing Woods Hidden Gnome
Find your way through the leafy labyrinth, making your way to the southwest corner. You'll find this little gnome locked in a metal cage - smash it open to free the gnome and claim your XP reward.
Pleasant Park Hidden Gnome
At the southern end of Pleasant Park, just beyond the soccer pitch, a gnome is hiding out in a cozy little campsite. Locate the zipline near the treeline bordering the neighborhood to discover this Gnome enjoying a campfire.
Lonely Lodge Hidden Gnome
Near the aptly named Lonely Lodge is a small pond where this lonesome gnome sits fishing in defiance of a clear "No Fishing" sign. Look for the folding chair set up at the water's edge just east of the lodge to find this rebellious gnome.
Greasy Grove Hidden Gnome
Northeast of Greasy Grove, a gnome holds court with teddy bears at the foot of a mysterious Island Head moai statue.
Dusty Divot Hidden Gnome
At a pond just north of Dusty Divot, a lazy gnome is soaking up the sun while floating blissfully on a pool raft.
Paradise Palms Hidden Gnome
On the eastern edge of the island near Paradise Palms, a somber gnome pays their respects over a pair of gravestones.
---
With their random placements and subtle nature, searching for these gnomes can feel like a true scavenger hunt adventure! Don't let their small size fool you - spotting them takes patience and eagle-eyed observation. Happy gnome hunting!
Also check this out: